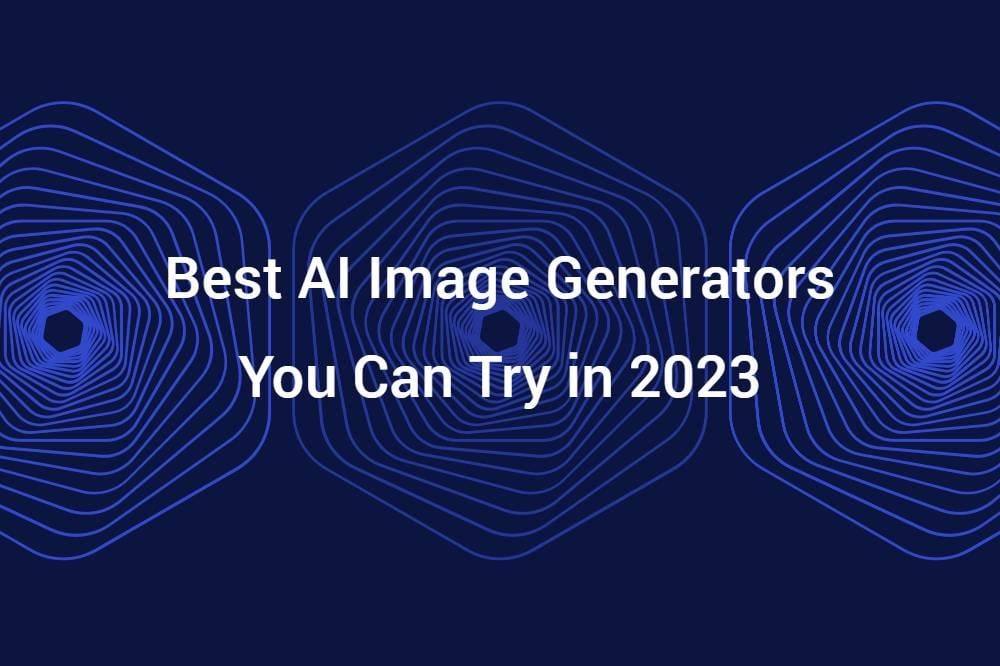 Artificial intelligence is changing the landscape of many industries, and one area where AI is having a major impact is with image creation.
There are many AI image generators that convert text to images using artificial intelligence algorithms. These AI tools can be a great way to quickly turn your ideas or concepts into visual representations in just a matter of seconds.
So, which AI image generator is the best? In this article, we'll take a look at 13 of the best AI image generators on the market in 2023.
We'll also discuss the pros and cons of each AI image creator so that you can choose the one that suits you best. Let's get started.
Table of Contents
What is an AI image generator?
The AI image generator is a tool that can be used to generate realistic images from text. This kind of tool is based on a deep learning algorithm that has been trained on a large dataset of images and their corresponding descriptions.
AI image generators can be used for various purposes, such as generating inspiration for your creative projects, visualizing your ideas, exploring different scenarios or concepts, or simply for fun with the AI.
You can use AI image generators to quickly create images of landscapes, animals, objects, characters, 3D models, or anything else you can imagine, and modify them with various customization options and details.
Top 13 AI Image Generators
1. AI Image Generator By Fotor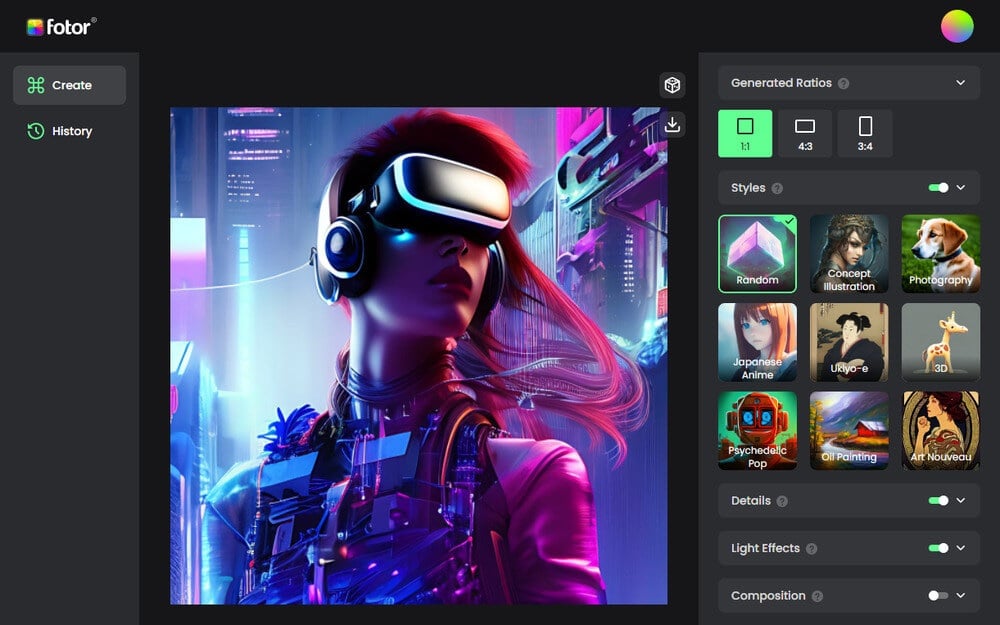 Fotor, an online photo editor with millions of users worldwide, recently released an AI image generator. It's very easy to use. You just need to type your text prompts, and watch Fotor's AI text-to-image generator bring it to life in a matter of seconds. You can use it to create realistic face images, 3D and anime characters, paintings, and digital art of any type.
The best part about Fotor's AI image generator is that it's free to use, and lets you export your generated image in full resolution. It's a great option for both beginners and advanced users.

Key Features:
10 free image generations per day
2 image conversion models: text-to-image and image-to-image
Fast image generation mode
Ability to produce great images from text
9 different conversion styles to choose from
2. NightCafe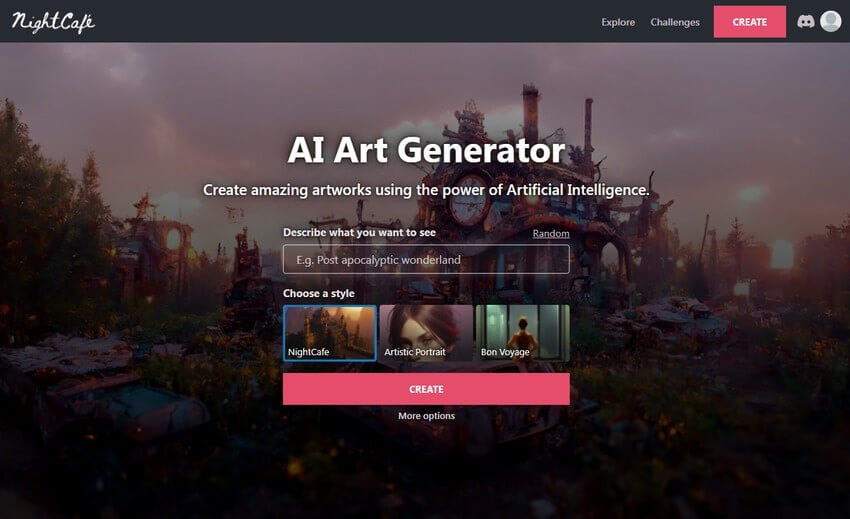 NightCafe is one of the most popular AI text-to-image generators on the market. It is said to have more algorithms and options than other generators. It comes with 2 conversion models- Text to Image and Style Transfer.
Text to Image: You just need to enter a description text, and NightCafe will automatically generate an image of the corresponding scene based on your description.
Style Transfer: Upload a picture to NightCafe, and it can turn your pictures into the style of famous paintings.
NightCafe is based on a credit system. The more credits you have, the more images you can generate. You can earn credits by participating in the community or purchasing.
Key Features:
Easy to use
Fast image generation process
5 free image generations per day
Various art styles to choose from
Able to generate high-resolution images for printing
3. Dream by WOMBO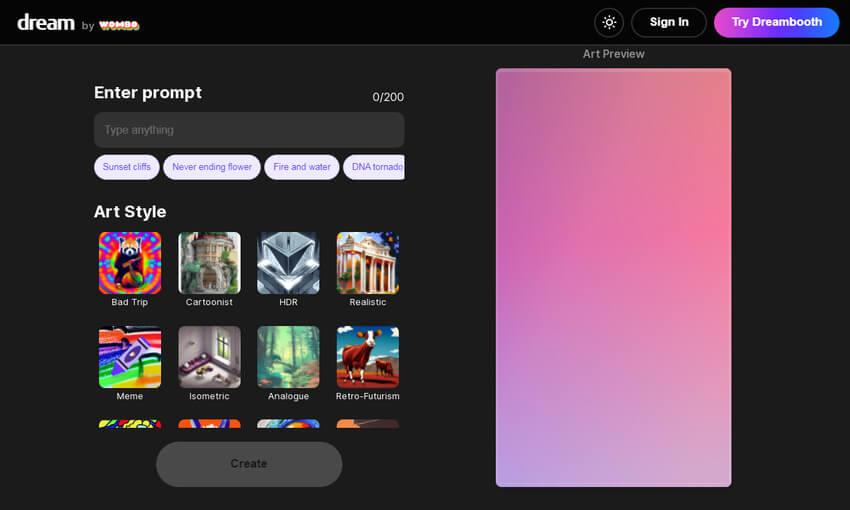 Dream by WOMBO was created by a Canadian artificial intelligence startup WOMBO. It is considered by many to be the best all-around AI image generator from text.
The process of using Dream by WOMBO is very similar to NightCafe. Write a sentence, choose an art style, and let Dream by WOMBO generate the image for you.
One of the best parts of Dream by WOMBO is that it allows you to upload an image as a reference, so you can generate images that better match your vision.
Key Features:
Easy to use
Various art styles are available
Unlimited image generations for free
Sell your generated images as NFTs
4. DALL-E 2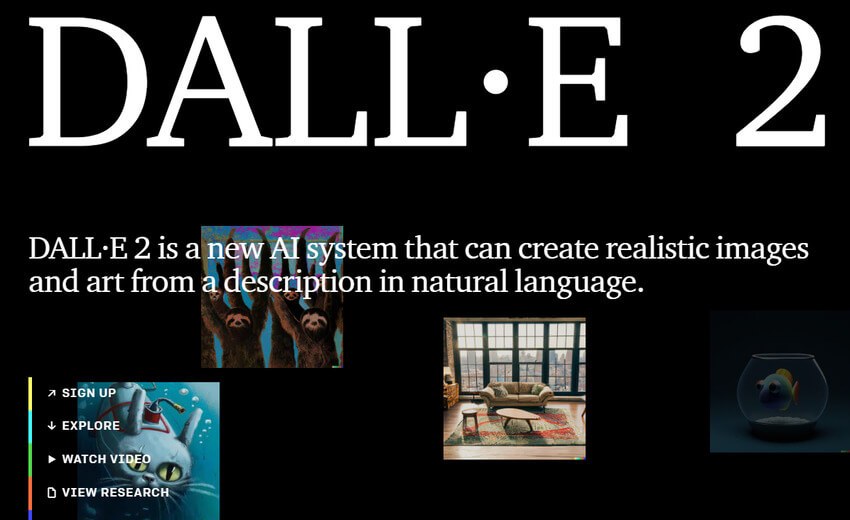 DALL-E 2 is a cutting-edge AI image generator developed by OpenAI, the same team that created GPT-3, the top natural language machine learning algorithm.
Therefore, DALL-E 2 becomes the most advanced AI image generator on the market that can generate a variety of digital art and illustrations from text.
Just input the text, and Dall-E 2 will create a series of pictures based on your text. You can use it to create illustrations, design products, and generate new ideas for business.
One of the best features DALL-E 2 offers is its paintbrush, which allows you to add details to your image such as shadows, highlights, colors, textures, etc.
Key Features:
Produce multiple images per time in minutes
Image quality and accuracy are excellent
Able to edit the generated images
5. Midjourney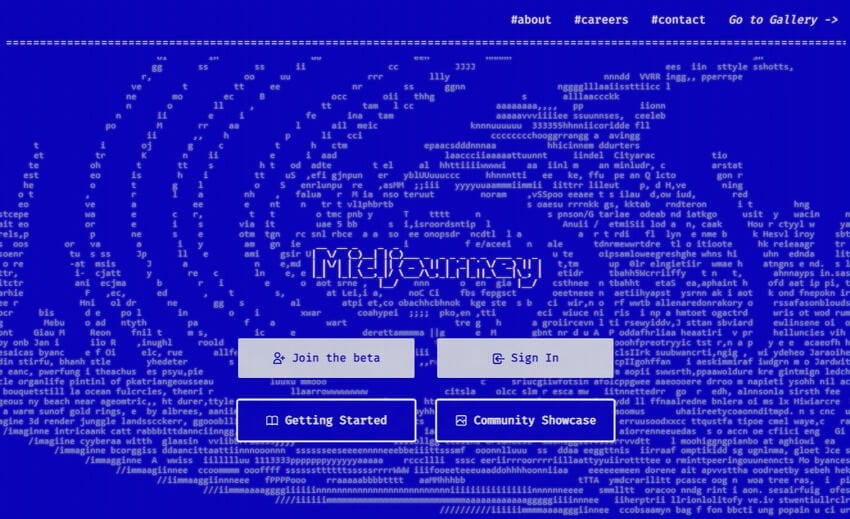 Midjourney is also one of the best AI image generators, with comprehensive capabilities and extremely fast image generation. Input a text prompt and let Midjourney do the rest.
Many artists use Midjourney to generate the images they want as inspiration for their work.
The artificial intelligence painting "Théâtre d'Opéra Spatial" produced using Midjourney got first prize in a fine art competition at the Colorado State Fair, beating out 20 other artists.
However, at the moment, Midjourney is hosted on a Discord server. To generate images with MidJourney, you have to join his server and employ Discord bot commands to create images. But that's easy, you can easily get started within minutes.
Key Features:
Easy to get started
Quick to produce AI-generated image
The quality of the generated images is great
4 output images per time
6. Dream Studio (Stable Diffusion)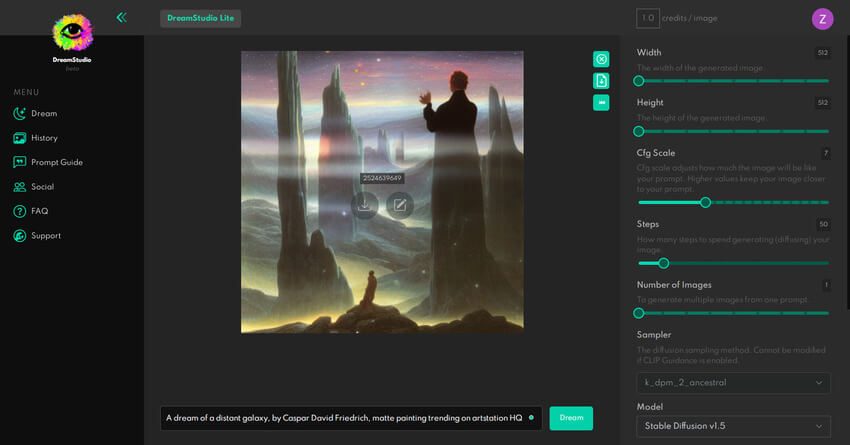 Currently, Dream Studio, also known as Stable Diffusion, is one of the most popular text-to-image AI generators. It is an open-source model that converts text prompts into images in mere seconds. Additionally, it can produce photorealistic artworks by combining an uploaded photo and a written description.
Dream Studio can be used to create photographic images, illustrations, 3D models, logos, and basically any image you can imagine.
Key Features:
Fast AI image generation
Multiple image generations per time
The results come with high quality
Customization options to edit the generated AI images
API access
7. Craiyon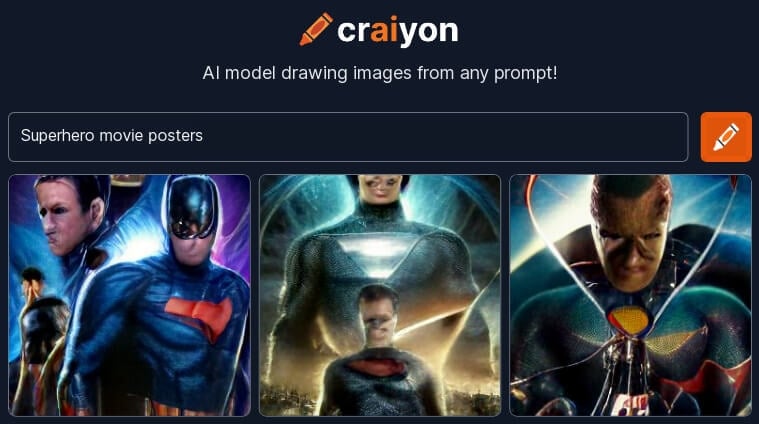 Craiyon was formerly called DALL-E mini. It was developed by researchers at Google and Hugging Face. Simply type a text description and it will generate 9 different images made from your input text.
Craiyon is a great free AI image generator with no sign-up page required. You can type in any keywords you like and see your AI-generated image in a few minutes!
Key Features:
Easy to use
No signup or registration required
Unlimited AI image generation for free
Generate 9 images per time in a funny and creative way
8. Deep Dream Generator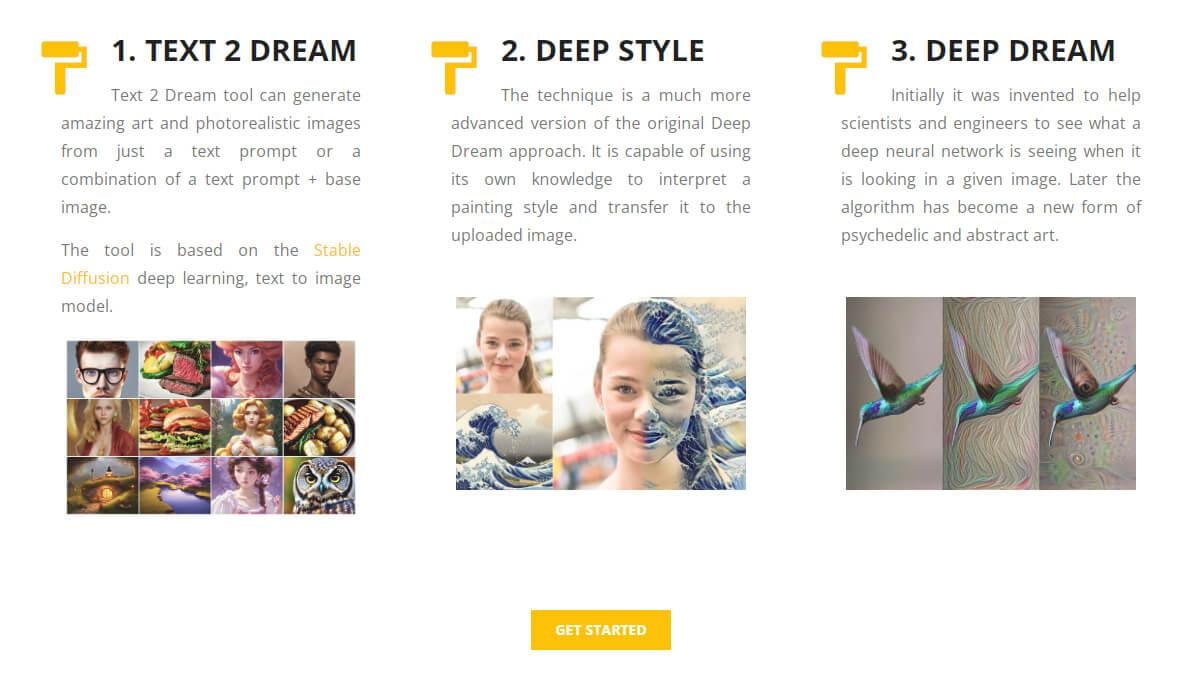 Deep Dream is a popular online AI art generator tool. It's very easy to use and comes with a set of AI tools for creating visual content.
Deep Dream can generate photorealistic images from text prompts, merge a base image with a famous painting style, or generate a new image based on the original image using a deep neural network that has been trained on millions of images.
Key Features:
Easy to use
Able to create realistic and abstract images
3 AI models to choose from
9. StarryAI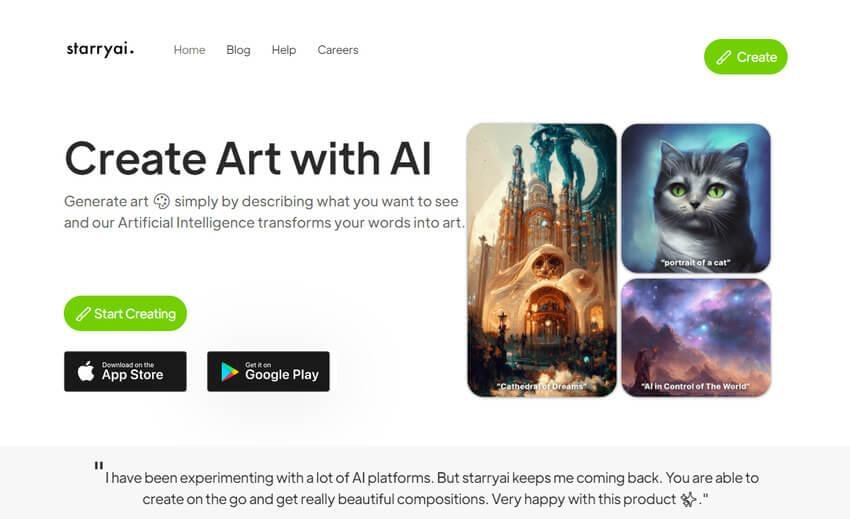 StarryAI is an automatic AI image generator that turns images into NFT. It can process images with machine learning algorithms and does not require any input from the user.
One of the best things about StarryAI is that it provides you with full ownership of the created images, which can be used for personal or commercial purposes.
Key Features:
Fast and easy to use
AI image generator app for both Android and iOS devices
Can be used as an NFT generator
Able to create realistic images, abstract images, and product render
10. Artbreeder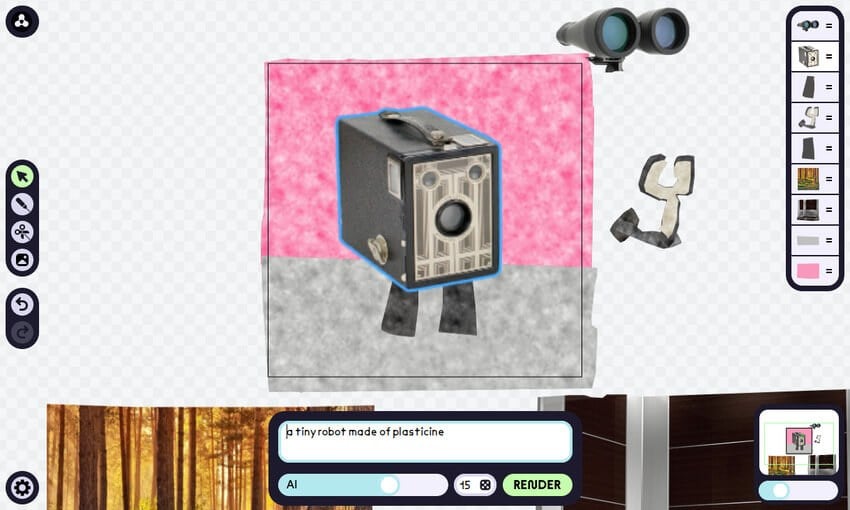 By using machine learning, Artbreeder creates creative and unique images by remixing images. You can use it to create landscapes, animated characters, portraits, and various other images.
However, the quality of the generated images is not as good as other AI image generators.
One advanced feature of Artbreeder is that it offers thousands of illustrations and allows the user to manage them in folders and download them in JPG or PNG format.
Key Features:
Create different image variants
Generate landscapes, anime characters, portraits, and more
Manage illustrations in folders, downloadable in JPG and PNG formats
11. Photosonic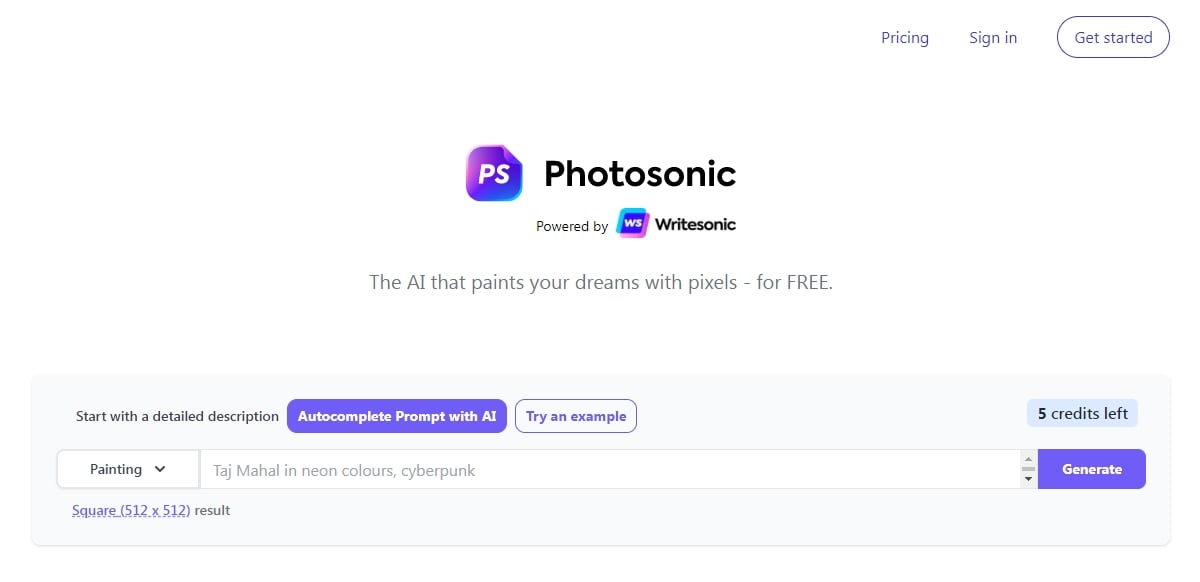 Photosonic is a web-based AI image generator tool that lets you create realistic or artistic images from any text description, using a state-of-the-art text to image AI model. It lets you control the quality, diversity, and style of the AI generated images by adjusting the description and rerunning the model.
Key Features:
Easy and fast to use
10 free image generations
Full rights to use the generated images for any personal or commercial purpose
12. DeepAI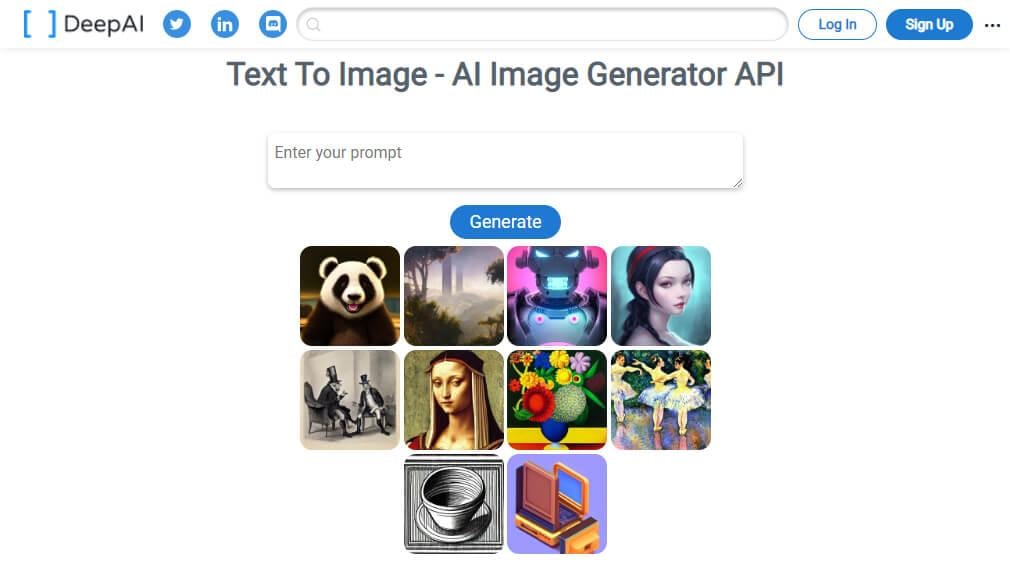 This is an AI Text-to-image generator. Its AI model is based on Stable DIffusion and can create images from scratch from a text description.
DeepAI is free to use and allows you to create an unlimited number of images, and each one is unique. It also has a free text to image API a developer can use to connect it to another software project. However, the quality is not as photorealistic as other AI image generators listed in this article, however.
Key Features:
Easy to use
Unlimited image generations for free
Text to image API access
Create unique and creative AI images
13. Big Sleep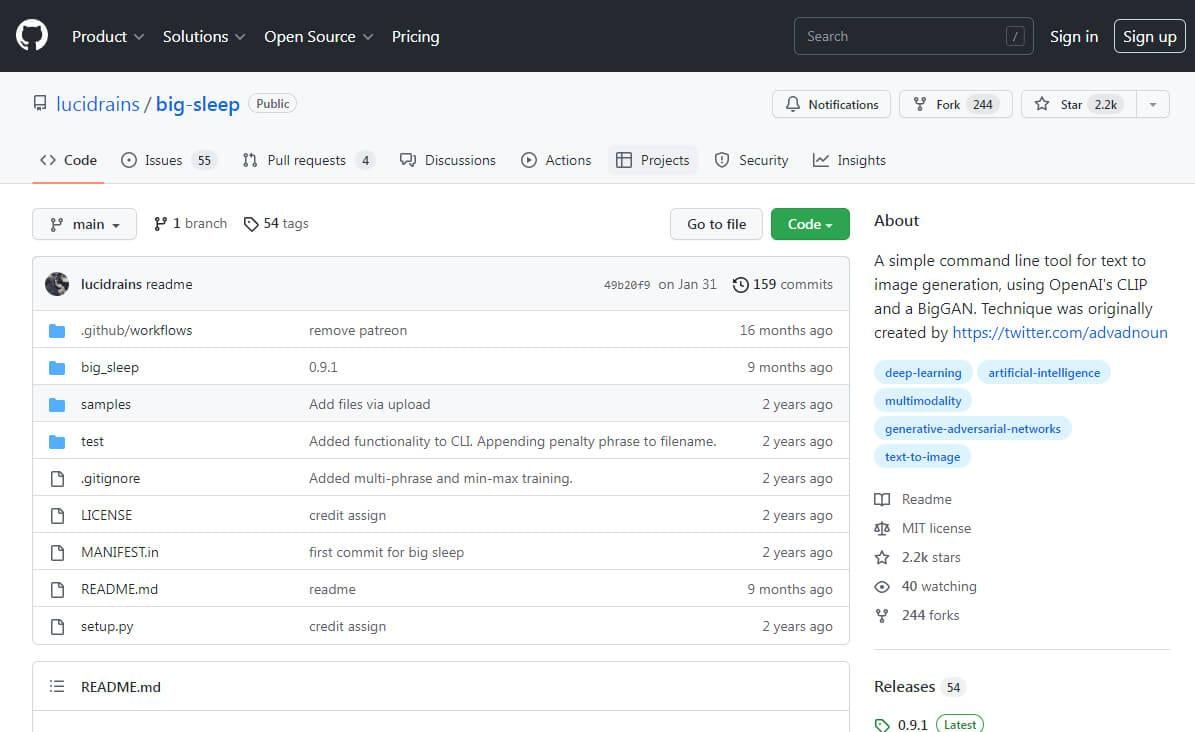 Big Sleep is an AI image generator from text that is based on Python and uses a neural network for image creation. It is on GitHub and is open source.
Key Features:
Free to use
Able to produce some excellent images from the text
Option to export images at resolutions of up to 1024×1024
Final Thoughts
Whether you're a professional graphic designer or just a casual user who wants to have some fun generating images, there's an AI image generator out there for you. With so many options to choose from, it's easy to find the one that best suits your needs. We hope this list has helped you do just that!